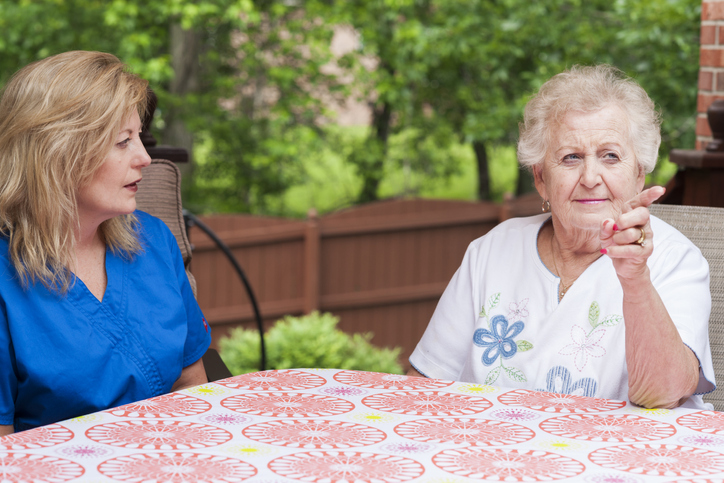 Think of a time when you had a burning question or idea you just HAD to share with someone. Remember how you felt - anxious, excited, interested, curious, etc.
Now, what would it feel like to be unable to communicate that question or idea? How would you feel?
Those who struggle with Aphasia have challenges that limit their ability to form speech. Aphasia can also impact reading comprehension and writing as well. Experiencing Aphasia is a struggle, especially without a professional caregiver. However, it can also be confusing and frustrating for others in their life who wish to support their aphasic loved one, but don't know where to begin. Keep reading for our tips for those whose loved one has Aphasia.
What You Need to Know About Aphasia
First, let's get you some background. Before the tips, we'll go through what you need to know about Aphasia.
Aphasia is a disorder that impacts a person's ability to communicate. This disorder happens when there is damage to the brain that deals with language. This will be the left side of a person's brain in most cases. Aphasia often results from a stroke, head injury, tumor, or another brain disease. Some other things to know about Aphasia include:
It does impact intelligence
There is a range in its impact from mild (trouble pronouncing specific words) to severe (inability to speak, difficulty understanding what others are saying)
All levels impact a person's ability to think of and say words and names
The person knows what they want to say, they just are unable to say it
Learn more by reading our article on Aphasia and its impacts.
Tips for Communicating with a Loved One Who Has Aphasia
Let's go through some of the most common tips for you and your family to communicate better with your loved one who has Aphasia.
1. Focus or Direct Their Attention
Help your loved one focus by bringing them to a quiet location. As much as possible, remove distractions and have the lights up. Turn the volume down or turn off radios and TVs. Try to have as few people as possible in the conversation.
2. Use Nonverbal Communication
Speak with your hands. Waving, thumbs up/down, nodding/shaking your head, are all great ways to help them understand you. Written notes and drawings can help. Be aware of your facial expressions and your tone/volume can send powerful messages.
3. Do Frequent Checks for Understanding
Many people smile, nod, and move on to make social situations easier. This practice is common for those with Aphasia. Make sure to check and double-check with your loved one, possibly switching the communication method. For instance, if you heard them say they want tea, draw a picture of it to confirm.
4. Technology is Your Friend
Computers, smart devices, tablets, phones, and other tech can help you communicate with your loved one. They may be able to pursue hobbies such as listening to an audiobook or podcast. Reading programs that will say text out loud will help them see and hear the words to better understand them.
5. Practice Patience
This situation is not easy for you, your family, or your loved one with Aphasia. It may feel like a wall is between you two that you can't breach to understand each other. Do your best, make it a game, forgive yourself, and remember this is tough for them.
Partner with Private Duty Home Caregivers Experienced with Clients Who Have Aphasia
Aphasia is not a fun time for anyone. The person with it can feel trapped in their mind, unable to communicate while their loved ones are left feeling helpless. Have patience with yourself and your loved one and don't forget to get help. The compassionate caregivers at National Home Care can help you, your family, and your loved one who has Aphasia. Give our team a call today.