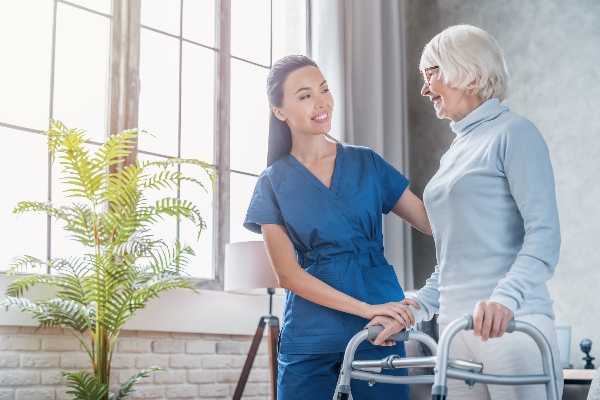 Everyone wants to live their life comfortably with dignity and respect.
The trouble is, when we get sick, injured, or older, living our best lives becomes more and more challenging. Luckily, we have each other. Life is not a one-player game. Instead, we need to help each other if we are to make it. When you or a loved one needs short-term, step-down, or long-term care, you have a few options to weigh to get the best service for your needs.
We often get asked the difference between home health care and private duty care services. While both provide for the needs of patients in their homes, there are some nuances. This article is all about home health care and private duty care.
What is Private Duty Care?
At some point in everyone's life, we need extra help. Private duty care is usually the type of service given to elderly people who need help doing their daily tasks. Your private duty caregiver will assist you or your loved one with household chores such as cleaning, meal prep and eating, and someone to go to activities with. Think of your aid as an extra set of eyes to ensure safety and comfort when no one else can be there. The main goal of private duty care is to help a client maintain their independence while living in their home. This can often be an alternative to an assisted living facility.
Some examples of private duty care services include:
Dressing
Bathing
Companionship
Meal preparation and cooking
Transportation
What is Home Health Care?
Certified home health care has some important distinctions. This form of care is given by nurses and other medical staff, including physical therapists, vocational and occupational therapists, and specialized nurses. Home health care is usually covered by health insurance and Medicare. Expect medical professionals to come to you or your loved one's home for up to 60 days. A doctor will need to order this form of medical assistance. It should be less expensive than going to a regular care facility.
Some examples of home health care services include:
Care for wound recovery, especially after surgery
Patient education
Intravenous treatment
Injections
Monitoring overall vitals
Get Top Quality Private Duty Home Care from National Home Care
It is important for you or your loved one to get the type of help they need to live safe, independent lives of dignity and respect. Though their needs may have changed, they still deserve to live in the comfort of their own homes. National Home Care provides private duty and home health care for our clients. Give us a call today to chat through your needs and how we can help you.